It's now raining liquor in Punjab villages!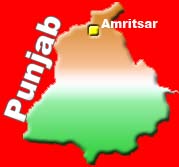 Amritsar, March 29 : The biggest festival in politics—the Lok Sabha elections—has not only intensified political activities, but also brought a big cheer to the faces of boozers and liquor manufacturers.
A visit to villages in Punjab in the run-up to elections shows that it is party time in the countryside. Country liquor is being offered to all those who fancy it with gusto and without gumption.
Like political leaders, who are busy campaigning to woo voters by hook or crook, liquor manufacturers are meeting the high demand for ambrosia.
It wouldn't be exaggeration to say that every political party requires a huge stock to distribute among villagers, and it's raining liquor everywhere in Punjab.
For instance, liquor manufacturing units in villages bordering Amritsar District are geared up for brisk business. For, what is usually a trickle around the year, turns into a 'flood' at the time of elections. It happens, interestingly, right under the nose of the police.
It doesn't surprise too much to learn that every liquor manufacturer is aware that they are violating the Model Code of Conduct. But if local political parties and the police are not worried, the question that arises is why should they?
Several villagers are busy preparing the local brew and filling empty soft drink bottles. Distilleries have come up in fields. In the event of a police raid, it takes just a bottle or two to send them on their way.
Villagers say country made liquor is their top choice as it rapidly takes control of your senses. Foreign brands don''t seem to have that kind of impact.
The sale of jaggery, the main raw material required for locally brewed liquor, has increased manifold following the declaration of election dates.
Local liquor is made of rose leafs, oranges, jaggery, and jeera (cummin seed), is being made available to local villagers at large.
''We place huge quantities of jaggery, mixed with water, rose petals, Zeera, mint, wheat and oranges, in an underground tank and it is left to ferment for about 10 days. This
mixture is then placed in huge kilns and the liquid is collected through a thin pipe. Each bottle cost Rs. 35 to 45 a litre," said one of the manufacturers.
''Liquor is the best way to lure voters. Candidates and party workers use it to attract voters, generally rural," the manufacturer added, requesting anonymity.
Bhagwant Singh, Amritsar''s Deputy Commissioner, admits that the illegal manufacturing of liquor is widespread, especially before elections.
He adds: "The administration along with the police department is working hard to catch hold of a number of such gangs and besides other crime, this is also on our priority
list."
Meanwhile, the villagers here are playing smart. They are accepting liquor bottles from anyone and everyone, irrespective of the party symbol, and just saving their stock for rainy days! (ANI)