IOC launches sale of 5-kg FTL cylinders through retail stores
Submitted by Rajvir Khanna on Sat, 04/05/2014 - 20:25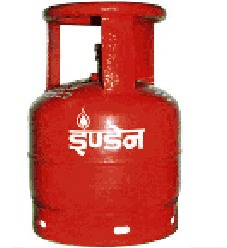 State-run energy giant Indian Oil Corporation (IOC) on Friday launched sale of 5-kg Free Trade LPG cylinders through kirana stores and supermarkets in select cities of the country.
Announcing the move, IOC said in a statement that it started sale of the small LPG cylinders from kirana stores and supermarkets in Aligarh, Bangalore, Chennai, Gorakhpur and Lucknow.
Under the new scheme, the 5-kg Free Trade LPG cylinders will be available at market prices. Buyers will have to the cost of the equipment (cylinder plus pressure regulator), the cost of gas at the prevailing market price along with administrative charges.
Launching the scheme in Bangalore, IOC General Manager G. Ramesh said, "In Bangalore, we have introduced this facility at the company outlet in KR Puram and we will extend it to kirana stores and other business establishments very soon."
Currently, the 5-kg FTL cylinders are available from 11 kirana stores in the aforementioned five cities, but IOC has plans to extend the scheme to fifty more cities in the coming months.
In October last year, IOC had launched sale of 5-kg Free Trade LPG cylinders from select IOC outlets (petrol/ diesel stations) across India.
The initiative of selling LPG cylinders through easily approachable sales points like kirana shops, retail stores, supermarkets is expected to mainly benefit migratory population, such as students, BPO employees and IT professionals, as well as people with odd duty timings.