Indo-Pak dialogue must to prevent conflict: Clinton
Submitted by Karan Jakhad on Tue, 12/15/2009 - 18:59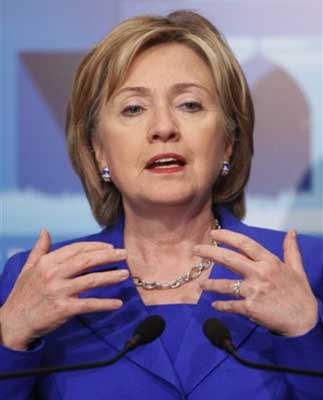 Washington, Dec. 15 : Stressing on the need for resumption of bilateral talks between India and Pakistan on all outstanding issues, including Kashmir, US Secretary of State Hillary Clinton has said extremists could try to provoke a war between the countries if issues are not resolved.
In an interview with a private television channel, Clinton said the Obama administration is working closely with both India and Pakistan to help reduce to heightened tension.
"We've encouraged both Pakistan and India to resume dialogue and talk about everything, including Kashmir, because now the security of both countries is threatened by these forces of extremism," Clinton said in response to a question about Washington's stance on the Indo-Pak dialogue process, stalled since November 2008 Mumbai attacks.
Referring to Pakistan's apprehensions regarding the proposed Afghan surge, Clinton highlighted that Washington wants to co-ordinate with Islamabad to reduce the danger of spill over.
"The US "wants to do a better job" of coordinating with Pakistan to minimise the possibility of any Taliban influx into its territory from across the porous Afghan border," The Daily times quoted Clinton, as saying. (ANI)
Technology Sector