Indian Team has won the Twenty20 World Cup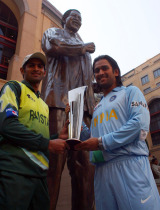 India has just won the World Cup match. Captain Dhoni has proved that his young team can play without any pressure and can win any targets. Indian team was very confident after defeating the world champion Australians.
The match was very interesting and difficult of India in the last overs. Joginder proved his worth once again for the Indian team. Pakistan had a small target to chase but the team had less wickets in hand. The Pakistani team was depending on Misbah who was caught in the last over while trying to score a boundary.
Indian batsmen could not do very well in today's match. The Pakistani bowlers were giving a following a very nice strategy and Yuvraj Singh could not show any wonders. Captain Dhoni was also a failure as far batting was concerned, but he managed the whole team so well that Indians won the title.
Indian team was having hopes on Yuvraj Singh, Pathan and Bhajji. Bhajji was not very successful, but Ifran Pathan created big troubles for Pakistani team after he took some crucial wickets. S. Sreesanth was not very economical, but in the last over, he took a very important wicket and led Indian towards a win.
The last over of Joginder was very crucial for India. The whole team played very well and India has proved that the young guys are not less than any superstars.
Indians are more than happy to see the World Cup after such a long time. While writing this news, I can hear the sound of crackers coming constantly. Shahrukh Khan was also watching the match and could be seen in the stadium. Certainly, now the whole India can say Chak De India!!