Indian security agencies to discuss measures to match China's space diplomacy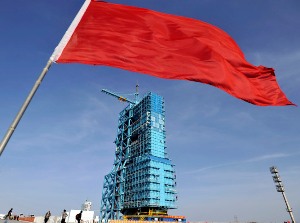 China's space-related collaboration with neighbouring countries like Bangladesh, Maldives and Sri Lanka has sparked off a fresh scare among Indian security agencies.
Emerging reports say that a secret inter-ministerial meeting will be held early next week under the chairmanship of the Deputy National Security Advisor to examine the situation.
The meeting will reportedly be also attended by senior officials from the department of space, ministry of information technology, ministry of information & broadcasting, and ministry of external affairs, as well as various intelligence agencies.
China has struck a deal with Sri Lanka to construct a space academy and satellite ground station in the island country. Sri Lanka aims to launch its first telecom satellite in 2015 at a cost of $320 million in partnership with state-owned China Great Wall Industry Corp.
Bangladesh and Maldives are also pursuing talks with China for constructing and launching satellites.
In the meeting, the ministers and officials will try to find some way to match China's space diplomacy. Measures like providing these countries with Indian know-how for building and launching satellites may also be discussed in the meeting.