Indian Railways dedicates Kalka-Shimla rail track to nation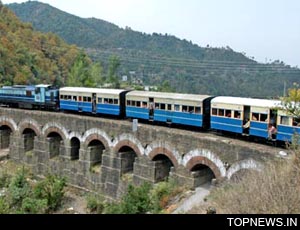 Kalka (Haryana), Nov 9 : Indian Railways dedicated the Kalka-Shimla railway line to the nation as world heritage track after being declared by United Nations Educational, Scientific and Cultural Organization (UNESCO) as a World Heritage.
In a vibrant ceremony laced with cultural performance at Kalka station in Haryana, union Minister of State for Railways R. Velu dedicated over a century old Kalka-Shimla rail track by unveiling the plaque on Sunday.
"The entire world know that such a railway, such a wonderful system is here," said Velu.
The railway track, which traverses Haryana and neighbouring Himachal Pradesh, is expected to boost tourism of the two states as the certification from UNSECO puts it on the world map of cultural attractions.
"It has been great thing for Haryana that this is the first UNESCO heritage site for Haryana and Railways has only two railway tracks, one in Darjeeling and one here. In fact this has been a great achievement for tourism," said Keshni Anand Arora, tourism commissioner of Haryana.
The Kalka-Shimla narrow gauge railway was approved for World Heritage status on July 07 this year, in addition to new sites in nine other countries that received the nod from the panel meeting in Canada.
The toy train, so called because of its smaller size and snail''s pace speed, presents an old-world charm.
Built by the British in 1903, the train has been well greased by the Indian railways to keep it chugging for more than a century.
The six-hour journey from Kalka to Shimla takes the train through 107 tunnels and connects a number of hill resorts, including Dharampore, Taksal, Gamma and Solan.
The journey offers the passengers a picturesque view of the Himalayan valleys and the train has become very popular with tourists, not only from India, but also abroad.
The other Indian railway sites like Darjeeling Himalayan toy train, Nilgiri Mountain Railway and Chhatrapati Shivaji railway station are already on the UNESCO list. (ANI)