Indian hockey team lose a golden chance in Punjab Gold Cup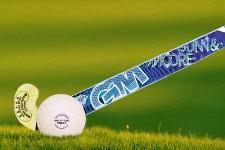 Chandigarh, Feb. 9, : Indian Hockey team lost a golden opportunity on Monday by losing to Netherland during the final match of the Punjab Gold Cup hockey tournament here.
India lost the match 1-2 to the Netherland, who had outplayed Olympic Champion Germany 7-1 in the last league match on Saturday.
Both the teams were goalless at the end of first half. But, in the 44th minute, Sandeep Singh sounded the board with a sharp low shot on the right of Dutch goalkeeper to put India ahead.
The Dutch team, however, soon came from behind and levelled the score.
But it was the Netherlands team scored the winning goal to clinch the title in the decisive minutes of the match.
Earlier, India and Netherlands both failed to convert their first penalty into goals but Hertzberger scored his second goal of the match through penalty corner.
Incidentally, India have not won a match against Netherlands for last 13 years. Its last win came in January 1996 in the Olympic qualifiers.
India had drawn both their matches in the tournament against the Netherlands (4-4 in the first and then a 2-2 draw in the second leg of the tournament). (ANI)