India to face tough competition in Asia Cup
Submitted by Bhuvan Kala on Sat, 09/01/2007 - 03:09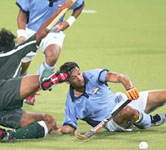 Chennai: From India's perspective, the seventh version of the Asia Cup Hockey Championship, starting on Friday, assumes much importance as they will be confronting a strong challenge from their Asian counterparts' enroute to their title defence.
The International Hockey Federation has allotted ranking grade to the tournament and being the defending players when the event was last held in Kuala Lampur in 2003, India would be keen to preserve the title and put on highest points that would promise them a rather easier pool in the Olympics qualifying episode, to be held early 2008.
With all the big names in Asia, comprising firm South Korea, traditional challengers Pakistan and dark horses China, affirming their involvement, Indians have to play a reliable game all through to maintain the title.
Joaquim Carvalho, Indian coach sounded hopeful of a good performance by the young players. After the bronze medal finish at the Sultan Azlan Shah tournament in Kuala Lumpur and in the Champions Challenge event at Boom in Belgium, the coach supposed that his team had the wherewithal to deliver the goods.
Considering that Korea and China were graded in the same group together with India, the hosts had to play consistent hockey all the way through and a title victory would be the perfect homework for the Olympic qualifiers.
Significantly, Indians have to perk up the penalty corners conversion rate as both China and Korea were good at short corner changeovers and require squeezing the game in the last ten minutes.
''We want to focus on this tournament. Winning this tournament will be the best preparation for Olympic qualifiers,'' Carvalho added.