India, China looking for much wider engagement: Ansari
Submitted by Sarthak Gupta on Mon, 06/30/2014 - 11:50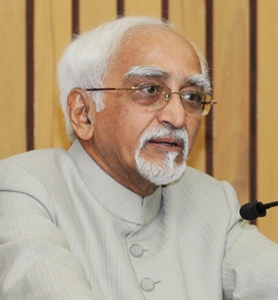 Beijing: India and China are working on developing a much wider engagement as the two neighbours have chosen the "wise way" of living with each other, Vice President Hamid Ansari said today. He said as India and China discover commonality of interest in various fields, they are looking for ways to further their relationship.
Referring to the presence of nearly 10 thousand Indian students in China and 50 companies operating here, Ansari said this is the beginning of a much wider engagement which India looks forward to.
He said it is a well accepted fact that while you can choose friends, you cannot choose neighbours. "China and India are neighbours, have been neighbours since the beginning of time and they continue to be neighbours as far as I can see. So, there are only two ways of living with neighbours ? there is a wise way and there is an unwise way," the Vice President said at a banquet hosted by the Indian ambassador to Beijing Ashok Kanth.
"I think we in India are very clear about it. We opt for the wise way, and from what I hear, what I heard in the last few days and what I have read about, I think this sentiment is reciprocated by everyone amongst the government and the people of China," he said.
Ansari is on a five-day official visit to China. He said India and China share an old relationship. "We are not strangers... This is the strongest point. We are looking for ways both sides to further our engagement in all fields in which we discover our commonality of interest, whether it is education, business, science and technology, culture," he said.
Ansari thanked the Indian community for helping the Government of India in creating a "more cooperative world". He said every seventh person in the world is an Indian who is working for his community wherever he is living. And by doing so, he is earning India a good name.
Earlier, Ansari along with? Myanmar President U Thein Sein and? Chinese Vice President Li Yuanchao attended a photo exhibition marking the 60th anniversary of Panchasheel, the Five Principles of Peaceful Coexistence.
More than 80 photos were on display at the Chinese People's Association for Friendship with Foreign Countries, revealing the history and development of the peace principles over the past 60 years.
Ansari took part in the 60th anniversary celebrations of the Panchsheel yesterday. In 1954, leaders of China, India and Myanmar initiated the Five Principles of Peaceful Coexistence, which stand for mutual respect for sovereignty and territorial integrity, mutual non-aggression, non-interference in each other's internal affairs, equality and mutual benefit, and peaceful coexistence.
(PTI)