Impact Of Inflation Decelerates Under Study - RBI
Pune: Yesterday,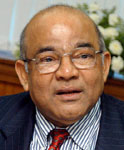 RBI Governor, Y V Reddy stated that the deceleration in inflation that dangled to a 14-month low of 4.03 per cent for the week ended June 16, and its impact were being studied.
Mr. Reddy made this announcement while addressing the fourth convocation of the National Institute of Banking and Management (NIBM).
For the week ended June 16, inflation dipped to 4.03 per cent from 4.28 per cent in the previous week as necessary food items and some manufactured products turned cheaper. Lower inflation will allay pressure on RBI to further increase interest rates.
Previously, 46 students were granted Post Graduate Diploma in Banking and Finance.
Asish Saha, NIBM Director stated the institute has applied to All Indian Council for Technical Education (AICTE) for a formal recognition of its Post Graduate Programme in Banking in Finance (PGPBF).