"I'm happy with the time," Armstrong says after first stage
Submitted by Mohit Joshi on Sun, 07/05/2009 - 02:03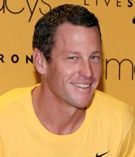 Monaco - Seven-time Tour de France winner Lance Armstrong said Saturday he was happy with his race after completing his first Tour stage in four years, the
15.5km individual time trial in Monaco.
"I'm happy," the 37-year-old Armstrong told journalists when he had changed into street clothes after finishing the first stage of the 2009 Tour. "Even if we don't win, I'm happy with the time."
Armstrong finished the tricky course, part of which was run on the Monaco Formula 1 circuit, in 20 mins 12 seconds, an average speed of 46 kph.
As he spoke, he stood in third place behind fellow American and Astana teammate Levi Leipheimer and German Tony Martin, but more than 100 riders still had to race.
"It was difficult, of course," Armstrong said of the course. "But it's difficult for everyone. It's very technical. It was hard to find a rhythm."
Armstrong returned to cycling after a retirement of more than three years to publicize his Livestrong foundation, which supports cancer research.
"I didn't have any big illusions, to win or take the yellow jersey," he said.
He noted that it was difficult to feel at home in the Tour after his long absence from the race.
"I was nervous, which is logical," he said. "It was like being in a foreign environment. It was like I had to start all over again."(dpa)
Technology Sector