How Electric Vehicles are Becoming Mainstream Through the Growing EV Market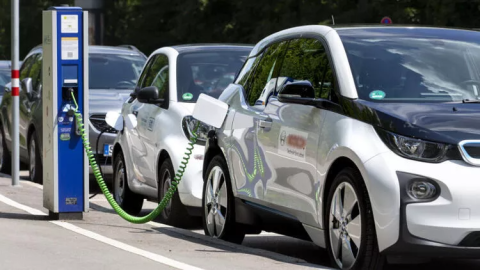 Electric vehicles have been gaining traction among the public in recent years. As over half of US adults state that they are likely to consider purchasing an electric vehicle in the next decade, some traders are looking toward CFD share trading of car brands and other stocks leading the transition.
There are several things to know about the growing EV market to better understand how electric vehicles will become mainstream in the future. Electric vehicle sales are on an upward trajectory, led by Tesla and conventional car brands making significant efforts to break into the industry. Additionally, greater collaboration between the private sector and the federal government due to the new infrastructure bill has led to the creation of new infrastructure to support the EV market. However, supply chain issues might pose a lingering threat to the electric vehicle industry since EVs require more chips than conventional vehicles.
Will Electric Vehicle Sales Continue to Surge?
The overall automotive industry saw significant declines in sales during Q1 of 2022, dropping by 15.3% in new vehicle sales compared to the previous quarter. Despite that, electric vehicles marked a bright spot for automakers as the industry faces downward pressure. Electric vehicle sales hit 6.6 million in 2021, up from 2.2 million in 2019.
Ford saw its EV sales jump 37.9%, and Tesla saw its EV sales climb 87.2% compared to the same quarter last year. The recent data indicates that there is heightened consumer demand for electric vehicles. Although electric vehicles make up a small portion of the automotive industry, the uptick in sales indicates a positive trend for the EV industry.
Federal Government Continues Its Focus on Electric Vehicle Legislation
The Biden Administration's new infrastructure bill has been called a turning point for electric vehicles. The law aims to enhance charging infrastructure by requiring more charging stations in order to play a pivotal role in the transformational shift to electric vehicles. This legislation comes as automakers aim to put nearly one million new vehicles on the road in 2022 and 2023.
The bill plans to allocate $5 billion for a new electric vehicle program and $2.5 billion for the Highway Trust Fund, a new competitive grant program, to bolster charging infrastructure. State legislatures are focused on making sure infrastructure keeps up with the growing EV market. The new law could impact share trading prices of top EV companies.
Increased Collaboration Between the Federal Government and Private Companies
On April 7th, the White House met with leaders in the automotive industry including Tesla CEO Elon Musk, GM CEO Mary Barra, and several other CEOs of major EV players to address the need for federal support to create a national EV charging network of 500,000 chargers. Transportation Secretary Pete Buttigieg, National Climate Advisor Gina McCarthy, and other high-profile people were also in attendance. The increased public-private partnership between leading-edge EV companies and senior US officials signals optimism about the future of electric vehicles.
Supply Chain Issues Continue to Plague the EV Industry
There has been an increase in the price of manufacturing materials, which has specifically affected electric vehicles. The price of lithium batteries increased by 150% year-over-year. The International Energy Agency stated that the world faces possible lithium and cobalt shortages by 2025. This situation could affect the share trading prices of major EV companies.
Additionally, there has been a semiconductor chip shortage due to the pandemic that has weighed on the production of electric vehicles. When people were in lockdown, there was an increased demand for personal computers and other electronics, which led to a huge demand for electronic that required chips, ultimately affecting the EV sector.
EVs require twice as many chips as regular vehicles, which exacerbates the supply chain issues. To hedge against future supply issues, North American automakers are reorienting their supply chains to bolster domestic production and become less reliant on foreign manufacturers. Supply chain managers are also looking to invest in the Philippines and India in the next 12 months.
The Bottom Line
Consumer demand for electric vehicles has been on the rise in recent years. This situation has resulted in a significant increase in electric vehicles in the last few years, which has had an impact on share trading prices. Additionally, the Biden Administration's new infrastructure bill signals that there will be greater collaboration between the private sector and the federal government to ensure a better infrastructure plan for electric vehicles in the future. The recent meeting indicates optimism in this partnership. Despite significant efforts from both the public and private sectors. Supply chain issues might pose a lingering threat to the electric vehicle industry. This situation is occurring because EVs require more chips than conventional vehicles. However, supply chain manufacturers have made changes by bolstering domestic manufacturing to avoid persistent supply chain issues in the future.