Hong Kong upgrades health alert status over swine flu fears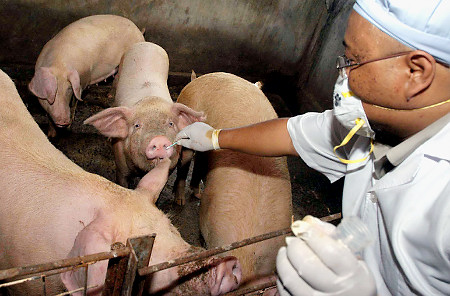 Hong Kong - Hong Kong health officials said Sunday they had stepped up surveillance at border control points as more swine flu cases were reported in Mexico and the US. Airlines had been asked to broadcast health advice on all direct flights from affected areas and passengers with symptoms have been asked to report to officers on arrival, the city's Centre for Health Protection said.
The government had upgraded its health alert status to "serious" and demanded that any possible swine flu cases be immediately reported, Zhou Yiyue, head of Hong Kong's Food and Health bureau said.
The apparently new strain of swine flu has killed at least 81 people and sickened thousands across Mexico. Eleven US people are also reported to have been infected.
Hong Kong has put in place stringent border health checks in the wake of a bird flu outbreak that killed six and infected 18 in 1997 and a SARS outbreak that killed 299 and infected 1,800 in 2003. (dpa)