High in Inflation Rates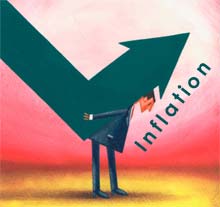 Tuesday cited an up in the markets enabling the Indian equity benchmarks to shut their shops with moderate gains following positive global cues. Also, the market cited some low due to higher-than-expected inflation numbers during the day but the last couple of hours recovered all those losses.
The 50-share NSE Nifty was in a narrow range of 5490-5515 the entire day and was further trying hard to hold the 5500 mark at the close also. The index finally gained 17.70 points and ended at 5,500.50 and the 30-share BSE Sensex cited a high of 42.63 points and settled at 18,308.66.
Market is still waiting for some more direction from the RBI policy, which is scheduled on June 16 and hopefully will prove fortunate for many.
Regarding the situation, C Jayaram, ED of Kotak Mahindra Bank said, "Today's inflation data might seem ugly. By and large we do expect inflation and interest rates to stay high over the next 3-6 months. And only by end of the calendar year - there are really expectations around both inflation and interest rates coming off a little bit."
Inflation for the month of May has definitely risen higher and that too even more than the expected 9.06% against 8.66% on a month on month basis (MoM), which according to a CNBC-TV18 poll, could come in at 8.68%.