Heavy snowfall disrupts normal life in Himachal
Manali/Kufri, Jan 11: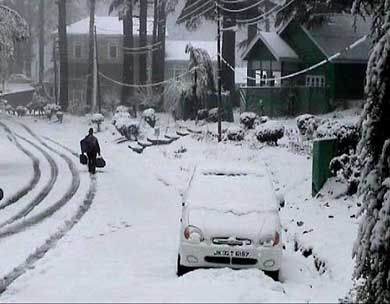 Heavy snowfall has disrupted normal life in Himachal Pradesh.
Road transport has been brought to a standstill due to road blockades by snow in several parts of the State.
The hilly terrain of Manali has been covered in a white blanket as it continued to snow in the valley.
Summit Chauhan, a resident, lamented the administration's apathy in clearing the roads.
"The traffic has come to a halt. The Manali National Highway is also blocked. There are no labourers to clear the snow and other arrangements have also not been made by the administration," said Chauhan.
"This is not the first time snow fall is taking place but this time the administration has shown lackadaisical approach and has not taken any anticipatory measures. We are also facing frequent power cuts," he added.
Heavy snow has also disrupted normal life in Kufri about 13 kilometres from Shimla.
Roads connecting the villages of upper Shimla to Kharapathar, Chopal and Narkanda have been closed due to the heavy snowfall.
According to civic authorities, all efforts are being taken to clear the roads and restore normal traffic soon.
"We have already made adequate arrangements. We are trying our best to provide speedy help to people," said Chief Engineer National Highway, A K Singh. (ANI)