Hazare welcomes govt. decision to release tapes of Lokpal Bill negotiations
Submitted by Hardeep Sidhu on Mon, 10/10/2011 - 16:56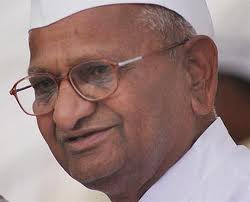 Ralegan Siddhi (Maharashtra), Oct 10 : Welcoming the government''s decision to make public the recordings of meetings between ministers and activists on the Lokpal Bill issue, veteran social activist Anna Hazare has said this is something that would restore the people''s faith in government.
Talking to reporters here, Hazare said: "The civil society activists working in support of the Lokpal Bill had demanded video recordings of the seven meetings that took place over two-and-a-half months."
"The audio recording had not been made public until now, so the government has decided to make it public. This is a good move. There should always be transparency, because it increases the faith of the public," he added.
Meanwhile, Subhash Agarwal, who had filed an RTI application on June 7 asking for the tapes of the first talks of the joint pane, said: "Though it is good that the tapes would be made available in CD format, it was wrong for the government to charge Rs 450 for the CDs as it has crossed the stipulated time period."
"Now in the end of September, DOPT sent me a demand note for depositing Rs. 450 for the cost of nine CDs. I filed my first appeal because according to RTI Act''s Section 76, copying charges are waved off if the response and demand is made beyond 30 days. However, now I have decided to deposit Rs. 450 tomorrow, on Monday itself, and try to get the CDs also at the same time. I will seek the refund later on," said Agarwal.
Agarwal also said that some of the senior ministers'' statements that the RTI Act was being misused to procure sensitive information from the government is not right as these decisions are taken by the government only after a lot of discussion.
"When some senior ministers are openly criticising its use, it should be remembered that it is a cabinet decision. It is not the decision of only the Prime Minister. We are having a coalition government. The Prime Minister has to consult with many persons on taking such decisions. There must have been some consultations and deliberations at high levels before taking the decision to provide these tapes under the RTI Act. And now the good thing has prevailed. And now the criticism of senior ministers who spot the misuses of RTI Act is not being entertained at all," he said.
The Department of Personnel and Training (DoPT) has agreed to release the tapes of the meetings of Joint Drafting Committee constituted to draft the Lokpal Bill.
The DoPT had earlier said that it required the approval of the Law Ministry to release the tapes.
The Joint Drafting Committee, comprising five members of Team Anna and an equal number of Cabinet ministers, was formed to finalise the draft of the Lokpal Bill. (ANI)
Technology Sector