Having kids can mean end of marital bliss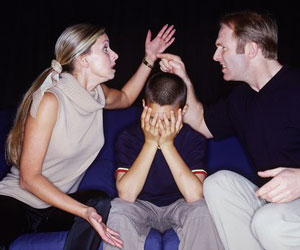 Washington, Apr 9: Thought marriage, money and kids were the cornerstone of happiness? Well, in that case, here's a news flash for you: having children can send martial bliss in a downward spiral.
According to researchers at the University of Denver (DU) and Texas A&M, children can add problems and stress to a marriage.
As per an eight-year study of 218 couples, ninety percent of the couples experienced a decrease in marital satisfaction once the first child was born.
"Couples who do not have children also show diminished marital quality over time," says Scott Stanley, research professor of psychology at DU.
"However, having a baby accelerates the deterioration, especially seen during periods of adjustment right after the birth of a childm," he added.
The study has been published in the Journal of Personality and Social Psychology.
The research also showed couples who lived together before marriage experienced more problems after birth than those who lived separately before marriage, as did those whose parents fought or divorced.
However, some couples said their relationships were stronger post-birth. Couples who had been married longer, or who had higher incomes, seemed to have fewer marital problems related to having a baby than those with lower incomes or who had been married for a shorter period of time.
Stanley cautions against concluding that children damage overall happiness in life.
"There are different types of happiness in life and that while some luster may be off marital happiness for at least a time during this period of life, there is a whole dimension of family happiness and contentment based on the family that couples are building. This type of happiness can be powerful and positive but it has not been the focus of research," Stanley says. (ANI)