Hamas, Fatah seek 'package' reconciliation deal in Cairo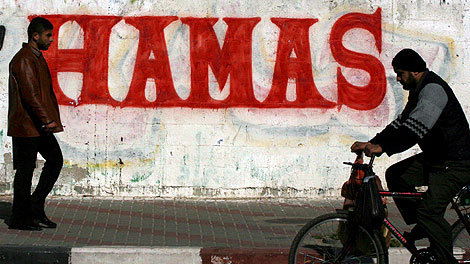 Gaza City/Cairo - Rival Palestinian factions Hamas and Fatah continued their fourth round of reconciliation talks in Cairo on Tuesday. Participants described the atmosphere as talks resumed on Monday as "very positive," according to local press reports, and said they had agreed to resolve all outstanding issues in a single "package deal," then consider a Cairo proposal for implementing the agreement.
"We have agreed to resolve all outstanding issues as one package," Fatah parliamentary leader Azzam al-Ahmed, who is in Cairo for the talks, told the London-based Arabic-language daily al-Hayat in remarks published Tuesday.
"We started the debate, and put forward new ideas. We exchanged ideas with enthusiasm. This, in itself, is progress," al-Ahmed said.
The latest round of talks comes amid renewed US efforts to revive the Israeli-Palestinian peace process. US Secretary of State Hillary Rodham Clinton and US special envoy George Mitchell recently completed diplomatic tours of the region, and US President Barack Obama last week met with Jordan's King Abdallah in Washington.
Israeli Prime Minister Benjamin Netanyahu, Palestinian President Mahmoud Abbas and Egyptian President Hosny Mubarak are expected to visit Washington in the coming weeks, the White House said last Tuesday.
In a move that underscored some of the impetus for renewed peace talks, the Israeli army shut down checkpoints on key West Bank roads leading into Israel, to avoid possible attacks by Palestinian militants in crowded city centres as Israelis plan to celebrate 61 years since their state was founded.
On Monday, chief Palestinian negotiator Saeb Erekat told reporters that Palestinian President Mahmoud Abbas submitted a far-reaching, written peace proposal to the former Israeli government.
Erekat said he presented the document to former US president George W Bush during a previously secret trip to Washington on December 18.
But in the absence of a national unity government, it is unclear who would represent the Palestinians in negotiations with the Israelis.
Addressing young Palestinians at his Ramallah headquarters Monday, Abbas expressed hope that the latest round of Palestinian unity talks taking place in Egypt Monday, would reach an agreement on a unity government that would allow reconstruction of the Gaza Strip and holding presidential and legislative elections by January 24, 2010.
"I call on the dialogue in Cairo to agree on a government that will run the country, reunite it and rebuild Gaza, then go for elections," he said. "We cannot rebuild Gaza without this government."
Abbas said he was not asking of Hamas to accept past interim peace agreements that call for a two-state solution to the conflict, but only of the unity government to do so.
Hamas, which controls the Gaza Strip, and Abbas' Fatah, which controls the West Bank, have failed to come up with a government of "national unity" in three previous rounds of talks brokered by Egypt's intelligence service three times before.
Talks have faltered over, among other issues, the political platform of a provisional national unity government intended to represent Palestinians until elections scheduled for January 2010.
Hamas has refused to join any government that recognizes the state of Israel and renounces violence. The so-called Middle East Quartet, an informal group including the United Nations, the European Union, the United States and Russia, has made it clear that a Palestinian government must accept these conditions to gain international recognition.
Hamas has instead backed an Egyptian compromise that would create a high council to liaise between its government in the Gaza Strip and Fatah's government in the West Bank.
In his remarks to al-Hayat, Fatah's al-Ahmed said his party had not yet studied the Hamas proposal. (dpa)