Hackers exploit flaws in new Google Chromecast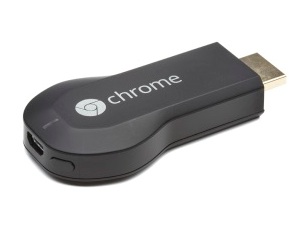 Google TV enthusiast web-portal, GTVHacker has been able to exploit vulnerabilities in the Google's new Chromecast.
The group exploited bugs in the device on the first day of its release and modified the system and activate shell access "to better investigate the environment as well as give developers a chance to build and test software on their Chromecasts." The group said that the device is more associated with Android than ChromeOS.
The new Chromecast can be attached to a television's HDMI port and it allows users to stream media from various devices including smartphones, tablets and computers. Google will launch the device in the US market priced at $35 and the company has not announced plans for its global launch of the device yet.
Google had earlier tried to expand into the television industry without much success. The company has launched a £200 set-top box in association with Japanese technology giant, Sony in 2012 but the device was not able to attract a significant number of users in the market. The company had also launched Google TV in 2010 but it was banned by several TV networks and required customers to buy expensive hardware. Google also had to scrap the Nexus Q device from its offering due to weak response.
Chromecast is the company's latest attempt to enter into the market that might offer a significant area for advertising revenue for the internet giant. Google is now focusing on streaming clips from services such as YouTube and Netflix through the device.