Greig slams Kiwi Brian McKechnie over response to 1981 underarm ball
Submitted by Sahil Nagpal on Thu, 11/20/2008 - 21:05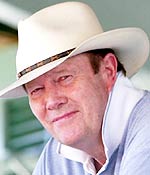 Melbourne, Nov. 20 : Noted cricket commentator and former player Tony Greig has inflamed the underarm scandal that rocked the sport in 1981, by claiming the most appalling tactics of all came from New Zealand batsman Brian McKechnie.
At an "underarm reunion" featuring Greg and Trevor Chappell, Greig described McKechnie''s tame defensive push of Trevor''s infamous grubber as "bloody atrocious".
"He spat the dummy," Greig said.
"He didn''t even try to hit the thing for six. We practiced for years in England because we knew at some stage someone would bowl an underarm . . . for him to not run down and let it hit is toe and pop up and try and smash it for six was a gross miscalculation... bloody atrocious."
McKechnie''s prod and his subsequent angry throw of the bat are among cricket''s most (in)famous images, in the 1981 MCG thriller in which New Zealand needed six runs off the final ball for a tie.
They were shown yesterday along with footage of Richie Benaud branding Greg Chappell''s decision "disgraceful" and similarly hostile attacks from Greg''s brother Ian and theatrical New Zealand Prime Minister Robert Muldoon.
Muldoon once told Chappell his initial reaction was "not that bad" but when he went to bed his private telephone number was rung at 1 a. m. by ABC radio his mood darkened immediately.
Chappell said he once went to a function with former New Zealand captain Jeremy Coney who said he had spent 30 fruitless years trying to get New Zealand sports fans united behind their cricket team in the way they support the All Blacks.
"We failed but you managed it in three minutes - you brought the country together," Coney told Chappell.
The ball gave Trevor life-long notoriety, which he accepts with a shrug of the shoulders.
"I bowled 736 balls in one-day cricket and no-one has ever asked about the other 735," Trevor said. "I get asked about it every week. I worked out a long while ago there was no use being upset about it. You might as well laugh about it.
"I reckon I cop less in New Zealand than I do in Australia."
McKechnie said the tactic was wasted on him for though an All Black rugby union international he was not a big hitter.
Greg quipped that people never gave his brother credit for the quality of the delivery.
"I might have thought after 27 years it might have been forgotten. I have got over it. It took me a while."
Greg said the first sign that the world was about to come crashing down upon him came with a subtle tug of his sleeve as he was leaving the ground.
"One little girl ran beside me and tugged on my sleeve and said "you cheated.'' That was the point I knew it would be bigger than I expected." (ANI)