GBP/USD Daily Commentary for 4.29.09
The Cable is climbing as investors find an appetite for risk ahead of America's Prelim GDP number.  A better than expected Prelim GDP would likely send the major Dollar pairs higher since it would give support to the argument that the global economy is stabilizing.  Yesterday's better than expected CBI Realized Sales data gives the Cable some added strength ahead of America's GDP release. 
With Britain's Nationwide Home Price Index coming tomorrow, the Cable should have some real directional ammo to play off of.  A global sign of economic healing could add fire to the uptrend's belly with the Cable creeping towards April highs.  On the other hand, if the U.S. Prelim GDP number disappoints, we wouldn't be surprised to witness a fire sale.
April highs and the highly psychological 1.50 level serve as the key obstacles towards a noteworthy uptrend in the Cable.  Meanwhile, the GBP/USD still needs to fight through our 2nd tier downtrend line and 3rd tier uptrend line.  The Cable has certainly built up a nice base since 4/20, which should act as solid near-term protection to the downside.  
Fundamentally, we find resistances of 1.4773, 1.4826, 1.4870, 1.4905, and 1.4951.  To the downside, we see supports of 1.4730, 1.4667, 1.4626, 1.45667, and 1.4532.  1.45 serves as a psychological cushion with 1.50 acting as a key psychological barrier. The GBP/USD is currently exchanging at 1.4742.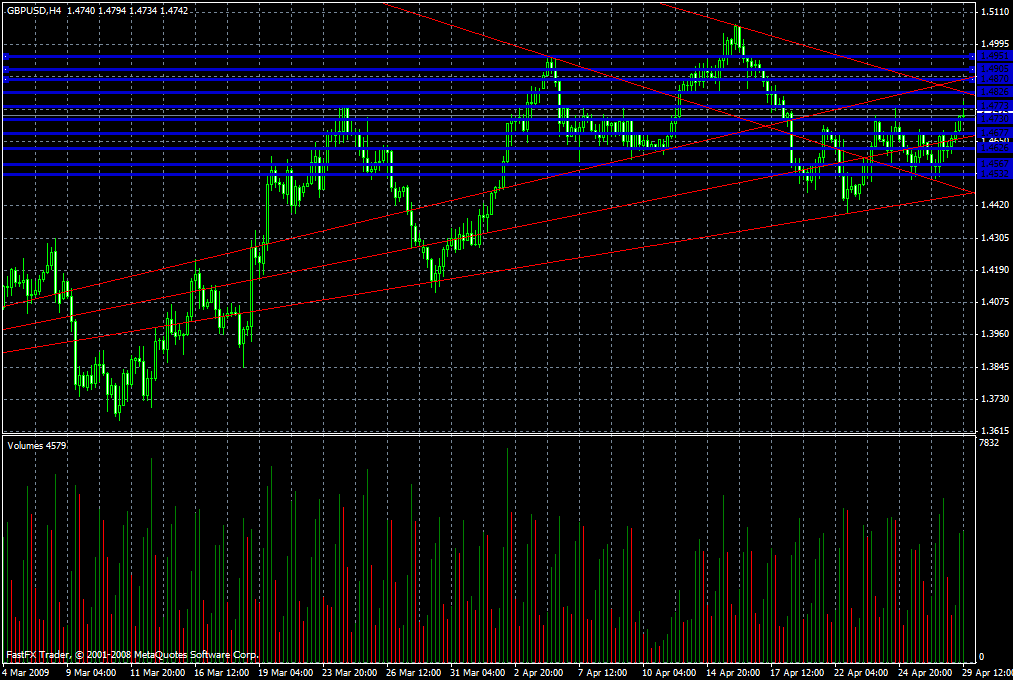 Copyright 2009 FastBrokers, Latest Forex News and Analysis for Forex, Bullion and Commodity Traders.
Disclaimer: For information purposes only. FastBrokers assumes no responsibility or liability from gains or losses incurred by the information herein contained. There is a substantial risk of loss in trading futures and foreign exchange.