Gas Pricing Blows Up Debate On Usage & Bidding Plans
Submitted by Rajvir Khanna on Wed, 09/05/2007 - 16:58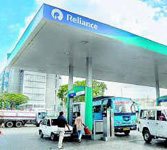 The gas pricing issue under the New Exploration Licensing Policy (NELP) that is being mooted by an Empowered Group of Ministers (EGoM), seems to have started an argumentation on a need to have gas usage, valuation and bidding plans prepared to shun differences. The issue gains weight as it would directly effect Reliance Industries Ltd's (RIL) gas pricing from its eastern offshore field.
While a judgment on the subject is yet to be adopted, the stakeholders, comprising the Anil Ambani Group, have been vocal in stating their worries on RIL's projected pricing formula. They have been disagreeing that the Mumbai High Court order of June 20 disallows RIL from selling gas up to 81.67 mmscmd that it has determined to NTPC and Anil Ambani Group plus for its own use. It leaves RIL with no gas to sell to third parties and, therefore, cannot ask for any new bids to settle on the pricing, they argue.
The gas producing companies said if the administration decides to figure plans on gas usage, pricing, and bidding, and put into practice retrospectively then it could make possible cartelisation among the bidders. This would result in anti-competitive patterns. Moreover, for RIL it would mean welcoming new bids that would cause a delay in starting out the fabrication from the D6 block of Krishna-Godavari Basin by at least a year or two.
The EGoM is looking at the aspects of the two high-level committees - Cabinet Secretary Proposals, and Economic Advisory Council of the Prime Minister on the matter. The RIL formula may want to be revised if the proposals of the two commissions are allowed and this may require RIL to invite fresh bids.
Announcing the combined production quantity in the bidding process would not have made any deviations to the pricing quotations passed on by the clients as their quotes were based on the price they were willing to pay for the gas in opposition with other customers, sources said.
Under the Production Sharing Contract (PSC), the administration can support the price formula for assessment of its share. Likewise, the PSC gives the operators' freedom to market the oil on international price parity basis and gas in the domestic market on arms length basis.