Former Harvard academic takes over reins of Canada's opposition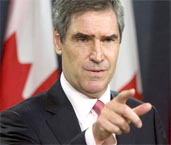 Montreal  - Former Harvard professor Michael Ignatieff took over the
reins of Canada's opposition Wednesday with a stern warning for Prime
Minister Stephen Harper
- shape up or fail the grade.
Speaking in Ottawa after he was named interim leader of the Liberal
Party, Ignatieff said he was ready to topple the minority Conservatives
and enter into a governing coalition with the socialist New Democratic
Party (NDP) if he didn't like Harper's budget, which is expected to be
tabled when Parliament resumes on January 26.
"The prime minister must be in no doubt whatsoever and Canadians must
be in doubt whatever that our party will vote a motion of non-
confidence in this government if we do not get a budget that responds
to the national interests of the country," he said.
But Ignatieff, who has been cool to the idea of the coalition supported
by the separatist Bloc Quebecois party, which seeks independence for
Canada's French-speaking province of Quebec, has also left a tiny
opening for Harper if the Conservatives agree to a compromise.
"The ball is in Mr Harper's court," Ignatieff said.
Ignatieff, 61, received the unanimous support of the Liberal Party
executive, members of parliament and senators, replacing Stephane Dion
as the leader of the opposition.
Following the defeat in the October 14 parliamentary elections, Dion
resigned effective May 2, remaining interim party leader to give the
Liberals time to decide on a successor.
Next, a political crisis erupted after Harper miscalculated and tabled
a provocative economic update that enraged and galvanized the
opposition. Suddenly, Dion found himself as the compromise candidate to
lead the centre-left coalition.
Facing a certain defeat in Parliament, Harper convinced Canada's head
of state, Governor General Michaelle Jean, to suspend the House of
Commons until January 26,
2009, and went on a no-holds-barred political offensive against the opposition.
Dion's bungled address to the nation - the tape of his speech was an
hour late and the picture was out of focus - convinced the Liberals
that they could not wait until May 2 to replace him.
Ignatieff, an accomplished author and journalist who has taught at
Oxford, Cambridge and Harvard, emerged as the frontrunner. When his
best friend and leadership rival, former Ontario premier Bob Rae,
withdrew from the race Tuesday, the way was cleared for Ignatieff to be
named interim leader of the Liberal Party.
Ignatieff is expected to be confirmed as permanent leader at the party's convention in Vancouver in early May. (dpa)