Flash floods continue to stall life in various parts of India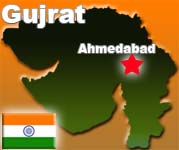 Surendranagar (Gujarat) /Sambhalpur (Orissa), Sept 18 : With no appreciable improvement in weather, flash floods caused due to incessant heavy rains continue to stall life in various parts of India.
People in Surendranagar District in Gujarat are grappling with the flood situation as many areas are under knee-deep water.
The region has received heavy rainfall in last 24 hours and many places have turned into virtual islands making movement difficult in the region.
Situation in the region remained grim and the state administration called in rescue workers to bail out stranded people.
"In Surendranagar the flood water is creating havoc in addition to the 10-12 surrounding villages which are also affected," said Harsha Vohra, Sub Divisional Magistrate Ahmedabad.
Meanwhile heavy rains have triggered flood situation in the Mahanadi river system in Orissa forcing the officials to sound a high alert in costal districts of the state.
Incessant heavy rains have caused water in the Hirakud Dam built over the Mahanadi river to cross the danger level.
Large amount of water has been released from the dam, which has further worsened the situation in areas downstream the river.
As a precautionary measure the Orissa government has ordered closure of all schools and colleges in flood affected region for next two days.
Heavy rains have lashed Orissa since Saturday due to low pressure over the Bay of Bengal.
Official media reported that nine people have lost their lives in the current rains and floods in the State. (ANI)