Emirates Airline to hand out Windows 8 tablets to flight crew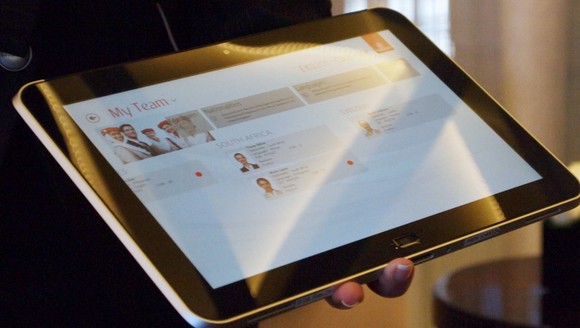 During the Monday launch event of Microsoft's new Windows 8 OS in Dubai, United Arab Emirates, the domestic airline - Emirates Airline - announced that as many as 1,000 Windows 8-powered HP ElitePad 900 tablets will be handed out to the crew and staff of the airline.
The rollout of the HP ElitePad 900 tablets to the Emirates Airline crew and staff will begin with the initial handing over of 100 devices by January-end; and will be expanded to the handing out of 1,000 tablets by the end of next year.
According to the Emirates Airline officials, the tablets which the flight crew of the Dubai-based airline will be given will use the Knowledge Driven In-flight Service (KIS) business app that can provide details regarding the airplane, crew, and customers.
With the KIS business app having been in use since 2004 for in-flight communication and CRM, the Emirates Airline officials said that the airline will use the app on Windows 8 and HP ElitePad 900 tablets.
Noting that the Windows 8 platform gives Emirates Airline the option of creating the KIS app which will help its crew in offering the customers "an experience not available on other airlines," Kevin Griffiths - the SVP of Emirates Cabin Crew - said in a statement that the app which the airline has created on Windows 8 will deliver "a unique, personalized experience with the necessary information for our cabin crew to better serve the needs of customers."