"Diamonds Were To A Woman What Cars Were To Men" – Aishwarya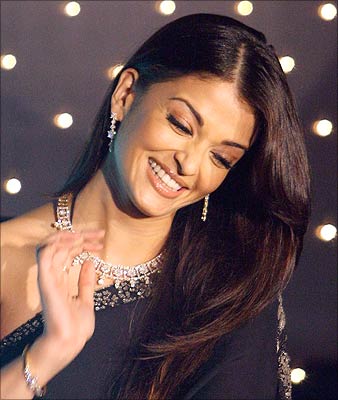 Actress Aishwarya Rai is enjoying the speculation about her pregnancy in the media. Ash, Jodha Bai of the period epic Jodha-Akbar, refuses it.
The beautiful former Miss World said, "If I walk too carefully or if I stand with dupatta draped on one side, the media will be rife with speculation the next day. So I am myself, going along with the flow."
Ash was in New Delhi to inaugurate a new collection of Nakshatra diamond jewellery.
"This new phase of my life, as Abhishek's (Bachchan) wife, has been special. I have another set of parents in Amit (Amitabh Bachchan) and Jayaji. The goodwill of the media and the people in general also has mattered," Mrs. Abhishek (Bachchan) said.
Talking about Jodha-Akbar, Aish said, "It is a director's film all the way. Ashutosh Gowariker is a committed filmmaker and for me it was another project that I enjoyed. The choice was between two films and Ashutosh was undecided which one he would make first. Then he messaged me one day saying will you be my Jodha. I said why not?"
"Ashutosh is not here to give a lesson in history. He just made a movie on the moving love story between Jalaluddin Akbar and Jodha Bai. It is an inspiring story. They were two people, who had an arranged inter-religion marriage despite the fact that they came from different backgrounds," the actress clarified.
The only aspect of Jodha Bai the actress identifies with is her "silence". "She made her presence felt through her silence and spoke only when she wanted to make herself heard," Aishwarya said.
When speaking about love for diamonds and accessories, she said, "Diamonds were to a woman what cars were to men." She told about her first diamond, "I got it from my father. It was a diamond ring which belonged to my grandmother."