Deutsche Bank sacks two executives in spying probe
Submitted by Gaurav Mehra on Tue, 07/21/2009 - 22:52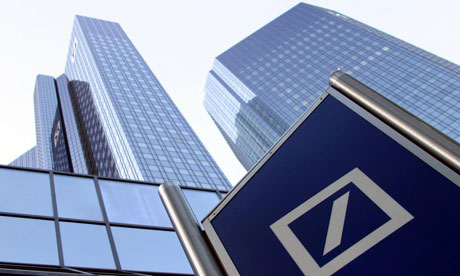 Germany's largest lender, Deutsche Bank has kicked out its two senior executives for spying on a group of managers and key shareholders and leaking sensitive information.
Company's head of German corporate security, Rafael Schenz has been fired.
Bank's head of investor relations, Wolfram Schmitt who was suspended earlier, has also been sacked.
The sackings of two executives follows the independent inquiry opened by the bank itself in May, in which Cleary Gottlieb Steen & Hamilton, a law firm was asked to lead the inquiry.
Earlier this year, Josef Ackermann, the chief executive of the Deutsche Bank had ordered a probe into the alleged breaches of data security.
Public prosecutors in Frankfurt have started an inquiry into whether the senior managers have breached criminal or civil laws that protect activist shareholders.
Those under surveillance, include Hermann-Josef Lamberti, bank's former supervisory board member, who was suspected of leaking details.
Michael Bohndorf, an activist shareholder, is also said to have been spied on.
Deutsche Bank is said to have hired private detectives to look into the matter.
The current scandal at the Deutsche bank follows many other corporate spying cases in Germany, including one at the Deutsche Telekom.