Delhi polls: Kejriwal assures permanent housing to slum dwellers
Submitted by Hardeep Sidhu on Tue, 02/03/2015 - 23:51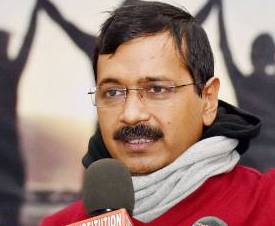 New Delhi, Feb 3 : Aam Aadmi Party (AAP) chief Arvind Kejriwal on Tuesday assured that if his party were to win the upcoming assembly polls in Delhi, it will provide permanent houses to the slum-dwellers in the city.
"During my rule of 49 days, I did not allow even single 'jhuggi' to be demolished. We are coming to power for years and in that period, I will not demolish even a single 'jhuggi'. There are five lakh 'jhuggis' in Delhi and we will make five lakh permanent houses," Kejriwal said while addressing a rally in the Trilokpuri area in the city.
The former Delhi chief minister further alleged that the Bharatiya Janata Party (BJP) is planning to seize the land from slum-dwellers and hand it over to builders.
"The BJP is not going to give you any houses. They are planning to demolish all the slums in Delhi, they want your land. They want to give your land to builders. They want to send all the slum dwellers out of Delhi," he said.
"The electricity meters, which are faulty, have been installed by the companies run by BJP leaders. I have papers which has the list of payments made by these electricity companies to the BJP leaders. First it was Congress, who joined hands with electricity companies and now it is BJP, both have betrayed people," he added.
Kejriwal also took on BJP on the issue of women safety, alleging that crime against women has increased since the 2014 Lok Sabha elections.
"Before elections, they [the BJP] had said that they will protect women. I would like to tell you that rapes have gone up by 25 percent after BJP came to power. Eve-teasing cases have gone up by 30 percent," he said.
"I have spoken to women in Delhi, they have said that they will not cast even a single vote to BJP," he added.
Elections for the 70-seat assembly in Delhi will take place on February 7, with the counting of the votes set for February 10. (ANI)
Technology Sector