Declining Dollar Results In Inflation Decline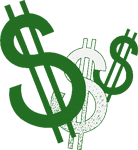 Decline of dollar against most major currencies is turning out to be great for Indian economy. The rupee has improved hugely to close at 41.85/86 against the dollar, which is recorded as a nine-year high.
The world-wide flaw of the dollar, attached with the resumed inflows from foreign institutional investors (FIIs) and the tightening of domestic rates assures traders to purchase the rupee and sold the dollar. This scenario would surely ease inflation because of decline in the cost of imports.
On Monday, IT majors like TCS declared that it has obtained a $1-billion hedge at a price range of 43.5-44.00. Conversely, small exporters with no prospect to hedge will be worst hit. A 10% increase in the currency value will be hard to surmount, even as exporters coped to supersede the appreciation over the last year.
Ajit Ranade, chief economist, Aditya Birla Group, said, "Over the past year, industries were able to cope with appreciation as well as a reduction in peak import duty to 7.5% due to increased productivity."
For traders, it is a great possibility that the central bank could be deriving comfort from the dollar weakening in offshore markets. The rupee is likely to continue strengthening against the dollar till the RBI intervenes insistently in the forex market.
According to a treasury manager with a private sector bank, "The US is currently caught in a situation where an economic slowdown is already being reflected in automobile sales and the housing sector. Also, given that elections are around the corner, any major shift in policy stance is unlikely."
The rupee and the Chinese yuan are anticipated to better in Asia, whereas same thing is not expected from the Singapore dollar, the Taiwan dollar and the Korean won.