Crafting of folk instruments alive in Punjab
Chandigarh, Dec 7: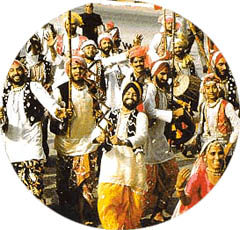 A family in Punjab's Nawanshahr District has for generations been engaged in crafting rare folk instruments to uphold the true spirit of Punjabi folk traditions.
Sixty-three-year-old Krishan Singh Ramgarhia is the fourth generation creator engaged in making Punjab's folk and classical instruments like Sarangi, Taus, Saranda and Rabab, many of them on the endangered list.
At his residential-cum-manufacturing unit in Nawanshahr, he is busy readying instruments against the orders piled from clients in Punjab and abroad.
"I have a pile of orders before me. I am unable to fulfill them. I can craft very few pieces these days. I have a customer demanding a Dilruba, an instrument, and the order is pending for six months now, " said Krishan.
"I have demands for different instruments. There are artists who specialise in one or two instruments, but I craft eight to nine instruments, including Taus, Rabab, Sarangi, Dilruba, Tanpura, " Krishan said.
Krishan's family is among the last few artisans crafting folk instruments in Punjab. In fact, his son, Rajender Singh, had earlier taken to carpentry, but in order to preserve and nurture folklore, he joined his father's profession and carries on the family's legacy.
"One feels awkward hearing that people are not interested in learning to make folk instruments. We should know to play and manufacture the instruments created by the Gurus, " said Rajender.
The Gurus created 33 instruments, including Sarangi, Saranda, Taus, Rabab, Dilruba and Tanpura, and their strains are different from the new instruments.
Despite the software-based synthesizers that can recreate the sound of several instruments, folk instruments are still alive.
"Trendier instruments have come into vogue but are no match for our instruments. The tunes of modern instruments are based on Western music. Many times they are used for folk singing, but are not suited for it, " said Krishan.
Having learnt to craft and play folk instruments from paternal and maternal grandparents, Krishan is today busy grooming his grandchildren to carry forward the family legacy. (ANI)