CPI, CPM split in Kerala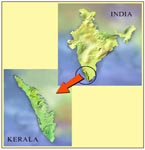 Thiruvananthapuram, Mar 13 : The Communist Party of India (CPI) on Friday announced that it was splitting from the Communist Party of India- Marxist (CPM) in Kerala.
The decision was taken by the CPI, after talks over who would contest the Ponnani seat failed. The party will now contest all 20 constituencies in the state during the general elections.
A CPI statement stated that the onus of the split in the state lies completely with the CPM.
Meanwhile, the CPM has called for an emergency meeting in New Delhi to discuss the situation.
The finalization of seat-sharing between the Left Parties failed when the CPI and the JD(S) refused to fall in line with the CPM's move on the Ponnani and Kozhikode seats.
The CPI wants to field its own candidate from the Ponnani constituency as it has been traditionally with it according to the seat-sharing agreement between the Left partners. But, the CPM wants to field a `common LDF independent' to muster support of Muslims outside the Indian Union Muslim League like PDP of Abdul Nasser Madani.
The CPM is also keen to contest Kozhikode seat, but JD-S has been contesting from this seat since 1980 and does not want to give it up.
According to party sources, CPI is now pinning hopes on intervention of the party's central leadership to resolve the crisis.
Kerala will hold polls on April 16. (ANI)