Chinese services sector's growth slips to lowest in 2.5 yrs in January
Submitted by Sameer Kapoor on Fri, 02/07/2014 - 20:43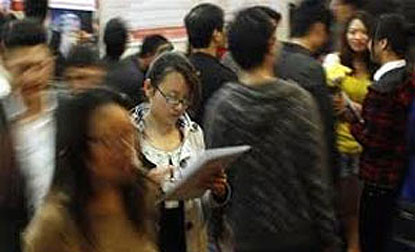 Adding to growing signs of slowdown in the Chinese economy, a private survey has shown that the growth of services sector of the world's most populous country slipped to its level in almost 2/½ years in January.
The HSBC/Markit Services Purchasing Managers' Index (PMI) slipped from 50.9 in December 2013 to 50.7 in January this year. It was the lowest reading since August 2011.
However, the reading showed that the services sector continued to grow amid growing concerns over economic uncertainty. It may be noted here that a reading of above 50 indicates expansion, while a reading of below 50 indicates contraction in an economic sector.
It is the fourth index that has shown a decline in the growth pace of the world's second-largest economy in January on softer local and foreign demand.
Many economists believe that the weak demand in January was mostly caused by the January 31 start of Lunar New Year holidays because a number of firms in the country closed shop early to celebrate the new year.
While many economists believe that a further slowdown in the economy is inevitable this year, some believe that services sector will bounce back in the coming months.
HSBC economist Qu Hongbin said, "We expect services growth to bounce back a little in the coming months."
In 2013, the Chinese economy grew at a rate of 7.7 per cent.