Chinese manufacturer Zhejiang QJmotor unveils e-motorcycle prototype QJ7000D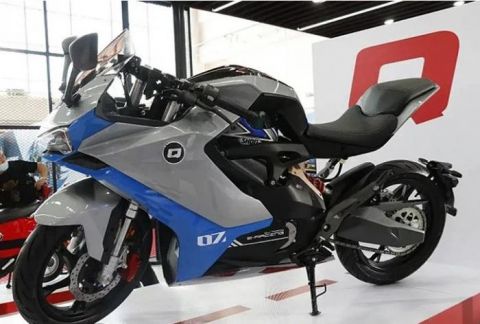 Chinese two-wheeler manufacturer Zhejiang QJmotor Motorcycle Group used the 2021 Beijing Motor Show to unveil a new all-electric motorcycle concept, codenamed the QJ7000D. The use of prefix "QJ" is enough to suggest that the aforementioned electric prototype two-wheeler would be destined for the QJmotor brand, which presently sells around a dozen petrol-powered motorcycles in the Chinese market.
The QJ7000D has been introduced as the manufacturer's first fully-electric motorcycle. Of course, it is not going to be the last as three electric scooters (e-scooters) in the lineup. Obviously, the group's various brands, including QJmotor and Benelli, are pushing ahead with their transition from internal combustion engines (ICEs) to electric alternatives.
Founded in 1911 in Pesaro, Benelli is the second oldest Italian motorcycle manufacturer. It was sold to the Chinese manufacturer in 2005, after it failed to find a solid footing amid the cut-throat competition in the automobile market. Now, some industry analysts are hopeful that electrification could rescue it from its bad days by helping it in regaining relevance and competitiveness as the entire world is shifting from ICEs to EVs.
While the Chinese manufacturer didn't reveal any tech specs of the QJ7000D all-electric motorcycle concept at the time of its official unveiling at the Beijing Motor Show, several of its features were quick to capture the spectators' attention. It boasts features of a fully-faired sport bike with four LED headlights, clip-on handlebars, chain drive, an inverted front fork, a rear mono shock, and a floating-type stepped-up seat.
The list of its other striking features includes arrowhead-shaped mirrors, a raised windscreen, and a storage space created at place of the conventional fuel tank. A camera has been mounted under the windscreen and the massive storage space is enough to accommodate a full-face helmet. It also comes equipped with a full-color TFT instrument console, a V-shaped main headlight, and blacked-out alloy wheels.
According to the company's claims, the QJ7000D will come equipped with a 9.4hp electric motor that will draw power from a 72V, 60Ah battery pack, which will be powerful enough to offer a range of 100 kilometers (km) with speed peaking at 105 kilometers per hour (km/h).
The QJMotor QJ7000D will most probably only be sold in the international markets as a Benelli model. Detailed specs and an exact date for the roll out of the electric two-wheeler are yet to be announced.