Chinese EV brand Ora's Lightning Cat electric sedan to hit U.K. market in Q1 2024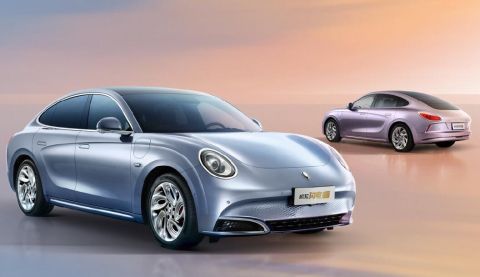 The GWM Ora Lightning Cat, an all-electric car produced by Chinese automobile manufacturer Great Wall Motor's Ora EV brand, will enter the UK market in the first quarter of 2024.
The pre-production model of the U.K. version of the GWM Ora Lightning Cat electric sedan was recently unveiled at the Fully Charged Live event in Farnborough – a town in northeast Hampshire, England.
The new electric model in question is a luxury sedan that is already on sale in China, where it is simply called the Ora Lightning Cat. It is worth-mentioning here that the upcoming electric sedan might be named differently for the U.K. market.
The Ora Lightening Cat features the brand's distinctive retro-futuristic design genes, but it promises higher levels of quality, technology and tech specifications. It is part of the company's efforts to ensure a strong foothold in the EV space.
After revealing the pre-production version of the Lightening cat in the U.K., GWM ORA UK Managing Director Toby Marshall said that the upcoming EV would offer a number of premium features like interior multi-colour ambient lighting, synthetic leather seats, and a large glass panoramic roof.
Speaking high of the new EV, Marshall said, "The reveal of our next premium electric vehicle in the UK is a really momentous occasion for the brand. It signals the high level of commitment and investment from GWM ORA to establish itself as a leader in multiple segments across the UK. We always knew our first model, ORA Funky Cat, was just the start. There are lots more exciting things to come."
More specifically, the Ora Lightning Cat electric sedan will be made available in both two-wheel-drive and all-wheel-drive powertrains. The latter will produce up to 395 hp (294 kWh) and 501 pound-feet (680 Newton-meters) of torque, which is enough for 0-62 mph acceleration in just around 4.4 seconds.
After the launch of the Funky Cat First in November 2022, the Ora Lightening Cat is going to be the Chinese brand's second model in the U.K. market, where it will compete with the likes of the Tesla Model 3 and Hyundai Ioniq 6 EVs.
Ora is already accepting initial reservation orders for the new model. The first ten buyers to receive limited edition concept art of the car as well as a bottle of champagne in a branded display box at the time of delivery of the vehicle.