China to resolutely 'crush, smash' Free Tibet forces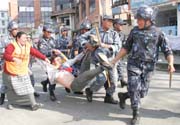 New Delhi, Mar 22: China today said that it would pursue its crackdown in Tibet to the bitter end in a bid to smash opposition to Beijing's rule in the remote region.
Thousands of Chinese troops and paramilitary police fanned out across Tibet and neighbouring provinces to crush unrest in Lhasa that has spilled into other far-flung corners.
Mouthpiece of the ruling Communist Party, the People's Daily, turned a blind eye to appeals for dialogue with Tibet's spiritual leader the Dalai Lama, and said the "Dalai clique'' must be shattered.
"China must resolutely crush the conspiracy of sabotage and smash 'Tibet independence forces','' the newspaper said in an editorial.
The People's Daily said that "1.3 billion Chinese people, including the Tibetan people, would allow no person or force to undermine the stability of the region''.
"It is for that very purpose that China resolutely cracks down on and severely punishes a handful of lawless criminals.''
It said the Dalai Lama masterminded anti-Chinese unrest in the hope of undermining the August 8-24 Beijing Olympics and splitting Tibet from China.
Earlier today, China said the death toll in rioting in Lhasa had risen to 19, including one police officer, from the previous official toll of 13 civilians.
Tibet's government in exile has put the "confirmed'' death toll from a week of unrest across the Himalayan region and neighbouring provinces at 99.
The Dalai said that he wanted more autonomy not independence for Tibet and dialogue rather than confrontation with China.
The Lhasa protests began last week to mark the anniversary of a 1959 uprising against Beijing's rule of Tibet, amid widespread anger over what Tibetans say have been brutal and repressive policies. (ANI)