Centre-left world leaders demand cross-border regulations from G20
Submitted by Mohit Joshi on Sun, 03/29/2009 - 02:22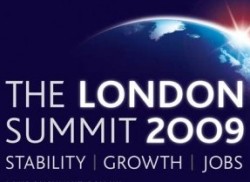 Vina del Mar, Chile  - Centre-left leaders from around the world said Saturday in Chile that they would demand from next week's G20 summit the imposition of urgent cross-border regulations regarding the financial sector, climate change and social protection.
"We cannot run the risk of postponing profound structural solutions," said Brazilian President Luiz Inacio Lula da Silva.
British Prime Minister Gordon Brown, the host of the G20 summit in London, was attending the Progressive Leaders' Summit in the Chilean seaside resort town of Vina del Mar as part of a world tour to seek consensus on financial strategies ahead of the meetings.
The United States and European Union do not agree on how to handle the global recession.
Washington advocates pumping much more stimulus money into its economy, and is urging a reluctant Europe to do the same. But Europe, with its extensive social safety net, says such high investments are neither desirable nor possible.
In Chile, Brown is joining prime ministers Jose Luis Rodriguez Zapatero of Spain and Jens Stoltenberg of Norway; US Vice President Joe Biden; and presidents Lula of Brazil, Cristina Kirchner of Argentina and Tabare Vazquez of Uruguay, as well as the host, Chilean President Michelle Bachelet.
On Saturday, Lula demanded immediate measures to prevent a crisis in the markets for energy and food in a context of severe global economic downturn.
At the same round-table discussion, Brown stressed that markets cannot be expected to regulate themselves and noted that cross-border regulations are required on all global issues.
The Progressive Leaders' Summit, as it is called - a periodic gathering of centre-left leaders - comes at a crucial time, as the leaders deliberate their proposals to get the world out of recession.
They agreed on the need to reform the world's financial system.
Kirchner complained that the current system is in a state of chaos.
"It is a world without rules," she said.
Uruguay, Chile, Norway and Spain are not formal members of the G20 group of the world's largest economies, but Spain is to be included in next week's summit.
Zapatero, in turn, demanded determination to tackle "reform and change" and stressed that the process that is at work should seek to democratize global structures further, and strive for an environmentally-friendly economy.
"The future of the economy is the green economy," he noted.
The group of centre-left leaders further said that huge resources are required to help the world's poorest countries deal with the crisis, through institutions like the International Monetary Fund or the World Bank, for example.
The Progressive Leaders' Summit was launched by then-US president Bill Clinton in 1999 to define a strategy that was clearly different from that proposed by conservative governments around the world. The first such meeting took place in Berlin in 2000. (dpa)
Technology Sector