Buy Gujarat Pipavav With Stop Loss Of Rs 58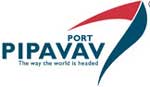 Technical analyst Prakash Gaba has maintained 'buy' rating on Gujarat Pipavav Port Limited stock with an intraday target of Rs 63.
According to analyst, the investors can purchase the stock with a stop loss of Rs 58.
The stock of the company, on January 13, closed at Rs 58.70 on the Bombay Stock Exchange (BSE).
The share price has seen a 52-week high of Rs 67.50 and a low of Rs 51.90 on BSE.
Gujarat Pipavav Port Ltd has made announcement that it has inked a memorandum of understanding with Gujarat administration for development of its port facilities in Pipavav.
The company said that it will invest around Rs 1700 Crore on the growth plan.
In addition, Gujarat Pipavav Port Ltd entered into a deal with Swan Energy Ltd with the aim to offer up port services to the latter for their projected LNG import terminal at Pipavav.
During November last year, the company had informed about inking of memorandum of understanding (MoU) with Aegis Logistics Limited.
The said MoU has also been validated at the Vibrant Gujarat Summit, which takes place on January 13, 2011.