Buddy Bike's new SX1 Commuter e-bike redefines safety, style & performance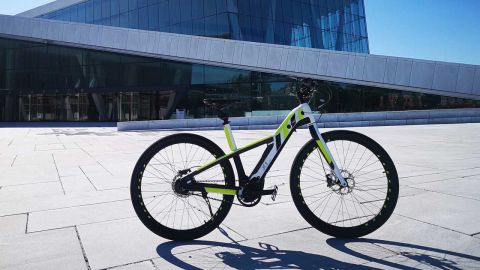 Buddy Bike LLC has introduced a new commuter-focused electric bicycle (e-bike) that promises a perfect blend of eye-catching design and ease of use. The Norwegian manufacturer of bicycles has been working on refining the bikes.
Called the SX1, the new electric two-wheeler been built by Buddy Bike in partnership with Eker, a design company known for creating innovative designs for various products in diverse industries. Frame has been produced and provided by V-Frames, a manufacturer of innovative e-bike frames.
The SX1 has a low-slung, partially step-through frame complete with a rigid front fork. Designed specifically for city/urban rides, it comes with 29-inch wheels that allow it to go easily over bumps and road imperfections. Carbon-fiber has been used to create the frame.
According to the manufacturer's claims, the frame of the-bike has been built out of recyclable carbon, which highlights the company's efforts to address concerns over environment. However, the company neither revealed the weight of the frame nor explained how it intends to recycle the frames of the new-e-bike once their service life is over.
When it comes to performance, Buddy Bike's new personal mobility solution comes equipped with a Sachs mid-drive motor capable of churning out up to 112 Nm of torque. However, buyers also have the option to choose either a Bosch or Bafang motor instead. Moreover, the battery of the e-bike can be chosen either in a 450-watt-hour or a 650-watt-hour unit configuration. Again, nothing has been revealed by the company about the range figures for any of the two battery types. The drivetrain of the two-wheeler consists of a Gates Carbon belt drive with an efficient internal gearbox. The drivetrain promises slick operation and tidy aesthetics.
The Norwegian manufacturer's official website state, "[Buddy Bike SX1 is] a collaborative project between V-Frames, Buddy Electric and Eker Design of Norway the SX1 is loaded with features and is constructed with V-Frame's high performance injection-moulded carbon composite - The greenest way to produce bikes in the world."
The Buddy Bike SX1 is, however, not for everyone as the manufacturer has decided to produce it in limited quantities – just 200 units. However, the production of the premium urban e-bike could be increased sometime in the future, depending on demand. As the e-bike is premium, it will go on sale with a starting price tag of $5,020. The top-of-the-line model with a high-capacity battery will set the buyer back by $7,070.