Brett Lee link-up news stale, says Preity Zinta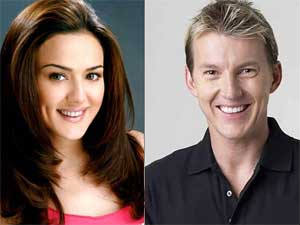 New Delhi, May 28 : Bollywood actress Preity Zinta seems to have got quite bored with her constant link-up to Australian fast bowler Brett Lee, who now plays for her Indian Premier League team Kings XI Punjab.
The actress, who was earlier dating industrialist Ness Wadia, took to micro-blogging site Twitter to tell her friends and fans that she is just friends with Lee.
"I think being romantically linked to Brett every year is outdated and stale news now! So sorry to say folks NO NEWS here! FRIENDS yeesss (sic)," posted Preity.
The duo was recently spotted together at a restaurant in Mumbai, and according to reports, they chose to exit separately to avoid paparazzi.
Lee has expressed on many occasions earlier that Preity is his favourite actress.(IANS)