BJP launches 'referendum' on illegal money in Gujarat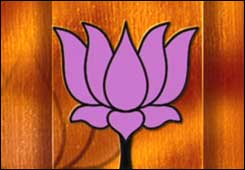 Ahmedabad, Apr 11 : Bharatiya Janata Party (BJP) on Saturday launched `referendum' to seek people's view about getting back the black money stashed by Indians in illegal accounts abroad.
The results of the two-day referendum, which is being carried out on the instructions of Gujarat Chief Minister Narendra Modi, would be made public later.
Voters were seen exercising their franchise in the cardboard-made `ballot boxes' here.
"It would be good if the black money comes back for the development of the country. As a common man, I have also exercised my franchise in this opinion poll conducted by the BJP," said Kaushik Patel, spokesperson of BJP Gujarat unit.
BJP's prime ministerial candidate Lal Krishna Advani vowed to get back the black money in illegal accounts abroad, as the party stepped up its campaign for good governance in the general election.
As per Advani, up to 1.5 trillion dollars are held by Indians abroad. Advani said this money could be used for development of the country.
Retrieving money has been a major issue in the G-20, as the major countries in the group called for a crackdown on tax havens.
The pledge was a highlight of the BJP's manifesto, which also promised low taxes to boost India's slowing economy.
Meanwhile, Ram Naik, senior BJP leader and party's candidate from Mumbai North parliamentary constituency, campaigned in a train in Mumbai.
Naik, who will witness a straight fight with Congress nominee Sanjay Nirupam, accused the Central Government of ignoring the commuters of local trains by not reducing the fares.
"People will teach the Congress a lesson for their step-motherly treatment and ignorance of Mumbai train commuters. In the whole country rail fares have been reduced but not in local trains," Naik said. (ANI)