Baisakhi mood continues in Punjab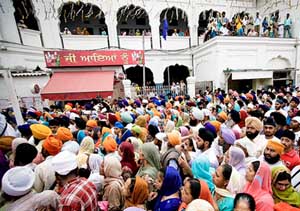 Amritsar, April 22: The Sikhs in Punjab are still in the 'Baisakhi' mood. Baisakhi is the commencement of the New Year, the day when harvesting is done and it also holds religious significance for the Sikh community, as it also happens to be the day when the Panth Khalsa was founded.
Sikhs from across the country and abroad take a holy dip in the Harminder Sahib, popularly known as the Golden Temple on the occasion of Baisakhi.
Guru Gobind Singh the 10th Sikh guru, had established the Khalsa Panth (the Order of the Pure Ones) on April 13, 1699.
"Sikhs were never warriors. But, on Baisakhi, the Guru Gobind Singh founded the Khalsa Panth with the aim of saving Hindus from the oppression of the Mughal emperors. The auspicious month of April inspires Sikhs to honor the bond in which the revered Guru Gobind Singh tied all the Sikh together," said a devotee.
For the farming community, Baisakhi marks the New Year and the time to harvest the `Rabi' crop. On Baisakhi, farmers thank God for the bountiful harvest and pray for good times ahead.
Dressed in colourful attires, farmers perform and enjoy Punjabi `Bhangra' dance in middle of the fields.
For youngsters, it is a time to connect with folklore that is almost fading away.
"Farmers work hard throughout the year for good yields and during the harvest festival of Baisakhi, when the crops are ready for harvesting, they dance and make merry. We dance the Bhangra, fairs are organized on the occasion with the hope of a good crop every year and of making it available to the people in the country," said a farmer.
In an agriculture-dominated state, Baisakhi holds great significance. And, be it harvesting, winnowing or the gathering of crops – the enthusiasm is expressed through energetic movements of the body.
Though agriculture in Punjab is undergoing a huge transformation, but the joy to celebrate Baisakhi together still holds immense significance in this part of the world. (ANI)