Audi EV sales jump 153% year-over-year to more than 4,300 units in Q1 of 2021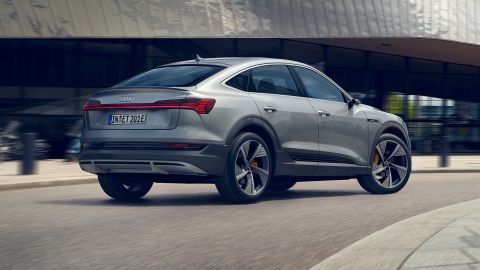 Luxury car brand Audi enjoyed an impressive jump in sales in the Unites States in the first quarter of this year, partly thanks to robust sales of its all-electric vehicles that hit a new quarterly record. Audi announced that sales of its vehicles in the United States jumped to 54,840 units in the January to March quarter of 2021, up 33 per cent from the corresponding quarter of the previous year. The manufacturer noted that sales of its all-electric cars played a crucial role in quarterly sales improvement.
According to stats released by Audi, the sales of fully electric vehicles hit a new quarterly record of 4,324 units, which represents an improvement of whopping 153 per cent over the corresponding year of the previous year.
Currently, the German luxury car brand is selling two closely-related electric models in the fast-growing American market, viz. the e-tron SUV and the e-tron Sportsback. The first electric model noted sales of 3,474 units during the quarter under review. The e-tron Sportsback registered sales of 850 units. The sales figure for the e-tron SUV represents a year-over-year increase of 103 per cent. The figures also clearly show that e-tron Sportsback model is significantly less popular than the e-tron SUV.
Compared to the manufacturer's total released sales volume, the share of EV sales for the quarter under review stands at a very good 7.9 per cent. The share of EVs in the company's overall sales volume is expected to rise in the coming quarters as the company is slowly but surely expanding its EV lineup. Analysts are of the view that every 10th Audi vehicle sold in the US will be fully electric sooner than later.
This summer, the German car manufacturer intends to start sales of its brand-new fully-electric model, dubbed the Audi e-tron GT. As per the company claims, the all-electric e-tron GT sports saloon will come equipped with a 90kWh battery that will be powerful enough to offer a range of 250 miles (roughly 400 km) on a single charge. With its 582 horsepower and automatic transmission, it is expected to pose a sturdy contest for the likes of Porsche Taycan 4S. In the long term, the e-tron will be followed by the Audi Q4 e-tron and Audi Q4 Sportback e-tron, which will probably be the key to increase the electric car sales volume.