ASUS P750 Smartphone offers better performance and 3.2 Mega Pixel Camera
 The recent launch of Smartphone ASUS P750 will offer many new features and works on Windows 6 professional. In our earlier report, we offered a quick review but this time, we are getting into the technical details of the model. Digital Imaging and Sharing will be much easier with ASUS P 750 Smartphone. The new gadget will be equipped with powerful processor and 3, 2 MP camera.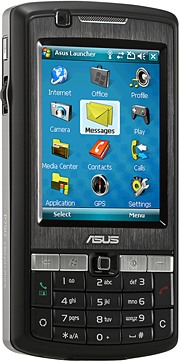 The new ASUS P750 will work on the basis of Marvell PXA27x processor with clock frequency of 520 MHz under control of OS Mobile Windows 6 Professional and contain 64 MB of operative memory, also 256 MB, used for storage of programs and others. For additional memory, one can always add microSD card. The Smartphone is equipped with TFT display with a diagonal of 2, 8 inches and resolution of 240x320 pixels, and also with built in 3, 2 megapixels camera with an auto focus.
 One of the basic features of the device is the presence of GPS of chipset SiRFStar III. ASUS P750 supports cellular network standards GSM/GPRS/EDGE, and UMTS/HSDPA as well. Communication opportunities are also provided by Bluetooth 2.0 module, wireless interface 802.11b, 802.11g and USB port used for synchronization with other, including personal computers, devices.
Onboard the gadget there is also a FM-radio and touch keys for control. As PDAdb.net writes, roughly ASUS P750 will be launched in December 2007 across Asia. Unfortunately, about the launching of the model on the European and US markets for the time being nothing has been known.