APEC calls for immediate steps vs swine flu, but no travel ban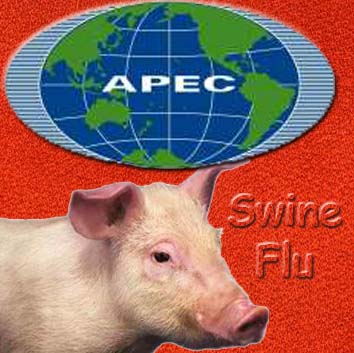 Manila - Asia-Pacific transport ministers on Wednesday called for immediate steps to contain the spread of a deadly swine flu virus outbreak, but they did not call for a travel ban in the countries affected by the disease. At the end of the 6th Asia-Pacific Economic Conference (APEC) Transportation Ministerial Meeting in Manila, the ministers expressed concern over the spread of the swine flu virus, which now affects seven countries, according to the World Health Organization.
"We call upon our officials to work closely with the transportation industry and with their colleagues in the public health agencies to enhance preparedness for and contain the spread of the pandemic influenza," they said in a joint statement.
But APEC Executive Director Michael Tay said the ministers did not think that imposing travel bans to the affected countries was already necessary.
"We are consulting among ourselves and with the World Health Organization (WHO) on this," he said. "So far there are no (travel) advisories yet. I think everyone is looking at the WHO on how to deal with this particular disease."
The WHO has raised its pandemic alert level for influenza to Phase 4 in response to the outbreak's rapid spread from Mexico. Other affected countries are United States, Canada, New Zealand, Britain, Israel and Spain.
Only Mexico has reported deaths stemming from swine flu. At least 159 people have died from flu infections in Mexico recently, and seven of those deaths were confirmed to have been from swine flu. (dpa)