Anna Hazare may attend Kejriwal's indefinite fast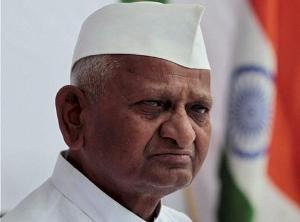 Following months of bitter split, Anna Hazare may once again be seen alongside Aam Aadmi Party (AAP) convenor Arvind Kejriwal during an indefinite fast scheduled to start in New Delhi on March 23.
On Monday, Kejriwal met Jan Lokpal crusader Hazare at Ralegan Siddhi and invited him to attend his planned indefinite fast.
After the meeting, Kejriwal said, "I had come to seek Annaji's blessing for my upcoming fast. I have also invited him to attend the Delhi protest. He said that he supports my agitation and will attend it if his schedule allows him."
But, key AAP member Kumar Vishwas used his Facebook page to claim that Hazare will join Kejriwal during his planned fast in New Delhi.
When Hazare was reminded about his previous stand of staying away from political parties, he claimed Kejriwal's upcoming agitation was not political.
He added that he was considering attending Kejriwal's protest because the government's policies had made people's lives in the capital difficult.
Kejriwal's planned indefinite fast in the capital is against increasing electricity and water tariff.