Anil Kakodkar says IAEA agreement is not final
New Delhi,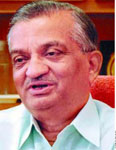 Apr 18: The Chairman of India's Atomic Energy Commission, Anil Kakodkar has said that the Indo-US nuclear deal is not final, as has been touted by External Affairs Minister Pranab Mukherjee in the recent past.
During a visit to Washington on March 24-25, 2008, Mukherjee had claimed, "We have finalised the language of the text of the agreement for the process of signing. After that, it will be taken to the Board of Governors.''
Kakodkar, however, has said that the India specific safeguards agreement negotiated with the world's atomic watchdog, the International Atomic Energy Agency is 'not final'.
Kakodkar's statement has created a twist, even as the Left and the UPA are preparing to hold another round of talks soon on the deal.
Kakodkar suggested that the deal though satisfactory, was stuck in politics.
"We have made very good progress to get the IAEA deal signed but nothing is final till everything is final," NDTV quoted him, as saying in an interview.
"Deadline has not been fixed so far. We only hope that things work out sooner than later. In any case, the domestic efforts are on and we hope to meet the domestic program needs of 10,000 MW on the basis of domestic strengths," he said.
"It would be good if external inputs are available. If we get inputs from outside, we can do that much faster," he added. (ANI)