Airtel launches pocket TV app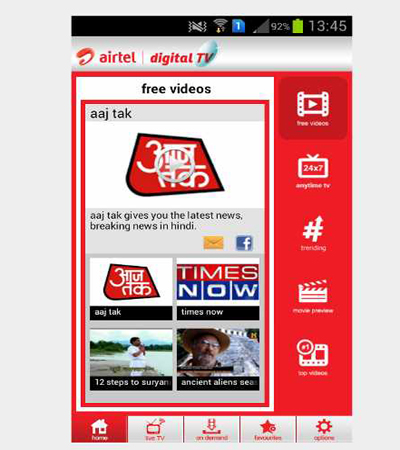 New Delhi, March 27 : A mobile app that enables viewers watch their favorite TV programmes while on the move was launched here Thursday by Airtel Digital TV, the DTH service arm of leading telecom operator Bharti Airtel.
Airtel 'Pocket TV' is loaded with over 150 Live TV channels and more than 10,000 hours of video content and over 13 channels on anytime TV, a company statement said.
"Pocket TV now promises a never-before library of video content which is available at an affordable price," the statement said.
The Airtel Digital TV app is available for download on the Android play stores and is accessible to all smartphones and tablets with Android version 2.1 onwards. Within a month, the app will also be available on the iOS platform soon followed by other platforms.
"The app is a convergence of the TV and mobile phone and its launch follows the success of Airtel Digital TV's innovative offering of Twitter on TV, which was the first global convergence of Twitter and TV," the statement added.(IANS)