Air France-KLM to slash up to 3,000 jobs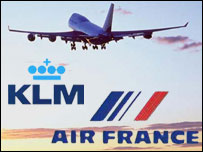 Paris - French-Dutch air carrier Air France-KLM said Wednesday it would cut between 2,500 and 3,000 jobs by 2011.
A spokesman for the airline said there would be no direct layoffs, but positions lost to retirement would not be refilled.
Last month, the company said it would post an operating loss of about 200 million euros (264 million dollars) for fiscal year 2008- 2009 because of the effects of the economic crisis and variations in the cost of crude oil.
That would be its first loss since the airline was created in 2003.
The job cuts represent about 4 per cent of Air France-KLM's global workforce of 74,000. (dpa)