2023 Mini Countryman PHEV to be brand's most powerful car yet: report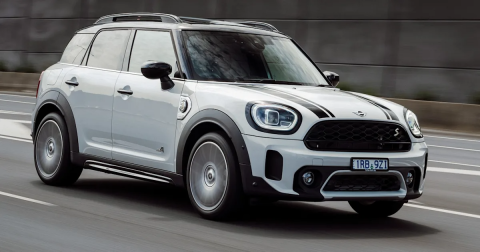 The next-generation Mini Countryman PHEV will reportedly be launched as the BMW-owned brand's most powerful series-production car yet, even more powerful than the Mini John Cooper Works GP.
According to emerging reports, the 2023 Mini Countryman PHEV will come equipped with a 322bhp set-up. To come from the BMW 2 Series Active Tourer, FAAR front-driven architecture complete with 322bhp powertrain will make the next-generation PHEV the iconic brand's most powerful series-production model in history.
The powertrain of the PHEV will have a 1.5-litre three-cylinder petrol engine paired with a 174bhp electric motor (e-motor) that will produce aforementioned combined output of 322bhp (roughly 237 kilowatts), which will make the electric model considerably quicker than the existing 217bhp Countryman Cooper S E All4. Its battery with 14.2kWh usable capacity will offer a range of around 55 miles (88 kilometers) on a single full charge. To recharge fully, it will take 2.5 hours from a 7.4 kW charger.
Due next year, the PHEV will be produced alongside the BMW 2 Series Active Tourer as well as the upcoming X1 crossover at the manufacturer's Leipzig plant in Germany. The upcoming vehicle will use the same range of petrol and plug-in hybrid powertrains, and the most powerful of them will be a four-wheel-drive PHEV set-up with a combined output that will outshine the power of even the current Mini JCW GP hot hatchback.
For the sake of comparison, we can have a look at the existing Mini Countryman Cooper S E All4, which produces 220 hp or 160 kW, and offers a range of up to 35 miles (roughly 57 km) on a single charge.
However, for the time being, it remains unknown whether the next-generation Countryman will also receive the JCW badge, even as the brand has plans to use the suffix on its future electrified models.
Some reports also suggest that the British automaker is also developing 1.5-liter and 2.0-liter turbo gas engines in addition to a 2.0-liter diesel. These gas-powered options will reportedly be supported by a 48-volt mild-hybrid technology. An all-electric model with standard all-wheel drive is expected to join the growing lineup at a later date.
The iconic British brand has plans to roll out its last combustion-engine variant in 2025, and aims for electric cars to make up at least 50 per cent of its total sales by 2025, before eventually going all-electric from 2030.