You can enjoy Oriental food in Chandigarh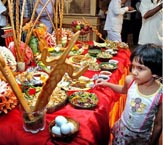 Chandigarh, Feb. 14 : Oriental food has traditionally been popular in the cities near seashore. The cuisine, however, is now being catered in Chandigarh as well.
The credit goes to Purple Rice, the oriental restaurant which has been popularizing this special food while bringing cheers to food lovers here.
Located in Chandigarh, food lovers at Purple Rice can relish the Indonesian, Taiwanese, Chinease, Thai, Japanese and Korean cuisine. The sound of chopping and sautéing of fresh vegetables as your dish is prepared in front of you under the guidance of chef Bhaskar, creates a perfect ambience.
Be it the ambience, the décor or the food - eating out at Purple Rice is truly a different experience for the Punjabis.
"We are very popular with Indonesian prawn sattees and then we have Indonesian pomphret and jumbo shimpholes and salt and pepper prawns and there are various other things in starters. In the main course, what we have done with seafood is that we have done a lot of customization. If you go through the menus, we have on every menu, ... the heading says, make your own prawn in any kind of sauce, make your own pomphret with any kind of sauce and same with fish," said Vipul Dua, Managing Director, Purple Rice. (Oriental Wok Café`).
Though authentic Chinese and Thai food is the mantra here, Vipul has done his bit to appease the Punjabi taste buds. His chilly Paneer is appropriately called `Chinjabi''.
"The trend is changing because people want to be healthy these days. They are more health conscious. They want to be fit. They want to look fit, that''s the reason. These oriental dishes have lots of vegetables, so they are the more healthy rather than eating just pure may be for that matter you would be eating cream chicken or butter chicken, you just has chicken and lots of fat in it," says Simran, one foodie.
"Now-a-days people are traveling a lot, so they are more aware of what all is in like the latest fad, so these multi-cuisines are latest fad now-a-days. Like in any hotel, you will find various types of cuisines from Chinese to oriental, continental and everything, health being the foremost reason. I think so people are more conscious and aware and so these cuisines are picking up," said Babita, another food lover.
A visitor can relish a meal at Purple Rice anywhere between eight to ten dollars per head including beer or wine from Australia, South Africa, Spain, Italy, France or India.
And as Punjabis get used to the oriental cuisine, the restaurateur has plans to build a chain of Purple Rice restaurants! (ANI)